A message from the President:

It is hard to believe that we are almost halfway through 2023!  The momentum for Project Golf is growing exponentially each and every day. The programs are in full swing (pun intended) and the students are learning the beautiful game of golf from some seriously dedicated instructors. I wish to thank the Project Golf instructors from the bottom of my heart as these loyal men and women offer their expertise to help the veterans, beginning golfers, and juniors learn a little more with each session to help them complete their journey to becoming golfers. 

I live in the Barefoot Resort community so I frequently drive past the massive driving range complex where the Project Golf headquarters is located. I can't help but smile every single time I look over and see the entire range full of new students participating in the "Introduction to Golf " classes, the PGA HOPE program with the veterans, or our next generation of youth golfers.  If I have some extra time, I'll stop by to shake a few hands but try not to get in the way of the Project Golf team that is 100% committed to these students and getting them all through the 6-8-week programs leading up to graduation.  The golf skills each student is learning will serve them well for the rest of their lives as the game gives us all such joy when we can share it with friends and family. The fellowship is evident on the Project Golf patio and range tee as these students tell stories of their past challenges in life, their successes, and their future goals and dreams. They learn about the history of the game, some interesting facts about golf, and some funny stories that we all have if you have played the game of golf for any length of time. Then the work begins on building a golf swing out of literally nothing. 

Most of these students have never touched a golf club, nor have any clue what to do with it once the basic grip is taught. After just a few tips from excellent PGA instructors, these beginners start to understand the mechanics of golf and see some early success. Then it happens…the eureka moment…the golf ball is purely struck and it goes high and far with the look on the student's face is nothing but priceless. It is from that point forward that the student is now considered a golfer.  Project Golf would like to welcome you to the world of golf and the opportunities it offers to golfers of all ages, races, nationalities, economic statuses, and physical abilities.  Project Golf is the entry-level vehicle to learn this awesome game.  I am so proud to be associated with such a great team of people that make all of this possible.  We can use as many volunteers as possible to help with the growth of these programs and to keep the momentum going strong. If you are interested in helping out, please contact Angel Diaz at Project Golf and he can discuss some possible opportunities for you to join the team. 

As we head into the second half of the year, funding will be important, so keep your eyes and ears open as we will be reaching out to current and future donors to ask for your support to finish the year strong and position Project Golf for another level of growth in 2024. Thank you to all those who have donated in the past and I hope you will continue to see your dollars are being well spent through the Project Golf programs. Finally, we hope to announce later this year some key partnerships with some great local, regional, and national organizations that can be mutually beneficial to grow the game of golf and make the Project Golf programs offered even stronger in 2024.
FROM THE EXECUTIVE DIRECTOR

I thought this would be a good time to share a capsule version of Project Golf's history as much has happened in these first five years:

2018 GTS under the leadership of Bill Golden, determines that it is now time to turn attention to growing the game locally with the three target audiences of disabled veterans, underserved youth, and beginners. The first initiatives were centered on beginners and Gene Augustine joined Gary in recruiting students and PGA instructors to start the program under the nonprofit, Project Golf.  The first year was successful, graduating 157 students. At the same time, we were in discussions with the PGA and Veterans Adm to start a PGA HOPE chapter in Myrtle Beach. By year's end, we had the chapter and scheduled four six-week classes for 2019.

2019 With the addition of PGA HOPE and a robust beginner's program we graduated over 200 students. A relationship was started with residents of Bridgewater and has continued to be a growing and enthusiastic component of Project Golf students. Additionally, we began a meaningful relationship with Nardmoor, a local facility housing and rehabilitating homeless veterans. This relationship has blossomed into one whose results are veterans finding hope and purpose through golf.

Project Golf, with GTS, relocated from the Oak Street facility to the former Greg Norman golf academy at Barefoot Resort. The new location has provided the needed amenities for teaching golf as well as providing the needed office space for both parties.

2020 Student enrollment continued to grow and by year's end graduated 260 students. Many of the students after six weeks of beginning golf were asking for more advanced skills so we experimented with Project 2:0 and found it beneficial in preparing our students for an enhanced golf experience.

2021 The big news of 2021 was the staff addition of Angel Diaz as director, Project Golf.

Angel has brought a spirited sense of commitment and operational prowess allowing Project Golf to continue its extraordinary growth. Students, instructors, and our volunteer base have all benefitted from his leadership.

We conducted a year-ending open house that resulted in a surge in donations and the beginning of our "telling the story" of Project Golf. The event also gave us the opportunity to show our newly finished walkway, patio, and tribute wall.  We added junior golf instruction to the program and learned that the underserved area youth was truly our target audience. We ended the year, graduating nearly 300 students.

2022 Our board of directors clearly signaled that they wanted more involvement with Project Golf and the result has been productive as they have taken committee assignments seriously and taken the program to new heights…the trending lines are all positive with a renewed focus on fundraising. Graduation rates were over 350.

2023 Angel recruited the delWebb residents to participate and those classes as well as Bridgewater and PGA HOPE will be full for this year.

In General: Sponsor relations are evolving which will likely bolster the financial bottom line. Additionally, Jack Lutz has been instrumental in developing local publicity and media opportunities through the Chamber of Commerce. More to come in that area.

Angel and Frankie have developed a Callaway fitting program which has filled a needed piece of development for our students. The response has been vibrant.

Discussions have begun about future Project Golf growth and possibly adopting a second teaching site adding geographical convenience for future students.

We are now at a point where we realize that we will soon need volunteer help in a few areas. Please reach out with interest.
Bookkeeping – by 4th Quarter 2023

Tournament support – registration, par three oversight, set up

We are in search of well-used clubs that we can pass on to our Youth and Veteran golfers in need 

Donations to help with providing golf course access to underserved Youth and Disabled Veterans
In retrospect, we are confident that the mission statement of growing the game and removing entry barriers as well as bringing hope and purpose to those most in need is fully being served.
FROM THE DIRECTOR: Angel Diaz, PGA
 
Project Golf is having a great year thanks to you!  Our opening fundraiser was a hit back in April for our "Show Some Love" tournament at True Blue Golf Club.  The event sold out with 33 teams.  We had some great fun, prizes, awards, and a great meal for all participants. We look forward to seeing you all back next year.  Thanks to our donors and event sponsors for helping us exceed our goal of raising $25,000.  Please don't forget to check our website www.projectgolf.org on a regular basis for monthly Charity Live Online Auctions featuring rounds of golf from the area's best courses.  100% of the proceeds for the live auction go to Project Golf Programs.  

This year we welcomed local PGA Members Donald Hepp, James Gillespie, Paige Cribb, Lew Gach, and Coaches Ryan Wilkerson, and Phillip Berry to our team of area professionals helping grow the game of golf on the Grand Strand.  We appreciate all the Golf Professionals' expertise and enthusiasm in helping us achieve our mission of removing barriers and introducing people to the game.  You all are shaping people's lives, if not saving them.  

Our mission could not be likely without your support.  For example, last month through a grant, we received a Paramobile cart from Stand Up and Play Foundation. This Paramobile will provide wheelchair users with impaired mobility the opportunity to stand up and engage in golf as well as the therapeutic benefits of standing.  Our Veterans are grateful for this opportunity as the Paramobile is reserved through Fall 2023.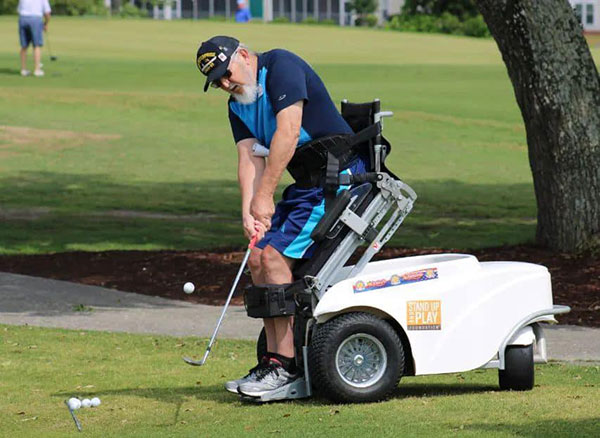 The impact we are having on the local veteran community is invaluable.  PGA HOPE (Helping Our Patriots Everywhere) Myrtle Beach Chapter is forming a community of golfers by surpassing all 160 chapters in registrations and graduations.  To date, Project Golf has impacted several hundred local veterans through our 6 to 8-week curriculum: We currently have a waitlist through the Winter of 2023 of veterans signed up to take the class.  Thank you all for your support in our mission by helping those in need.
"PGA HOPE Myrtle Beach gave me a new lease on life, before golf, I was really depressed and plagued by mental health issues which are service-connected.  Since the program, I have played golf and my mental illness has stabilized."

"I am able to play with the Elks Club in Murrells Inlet, and so thankful for PGA HOPE. I was about to give up.  It really helped me to understand a lot about what I was supposed to be doing.  So thankful for everyone's help, I loved this program.  All the instructors were just amazing people.  They are professional, empathetic, cheerful, and just fun to be around."
Our Introduction to Golf (AITG) Summer Series continues to introduce new golfers to the game at a fast rate. We have introduced over thousands of new or lapsed golfers on the Grand Strand to the game.  Participation is at its highest as the students enjoy meeting new friends, and new games, in a fun and safe environment.  Their feedback is overwhelmingly positive.
"Project Golf was an amazing course for a beginner/novice golfer.  The Pros were knowledgeable, patient, and kind!  They gave me many great practice techniques that have helped me improve – although I have a long way to go and may just take the course again! Thank you!"

"PG is excellent at providing not only instruction but confidence building as well. Was well worth the money and time."
Junior Golf & Student Statistics
After a successful 2022 Junior Season that impacted 25 youths from Conway in our after-school Summer Program, we look forward to announcing later this Summer a new partnership with a Regional and National organization that will impact the lives of many juniors in our community.  We look forward to sharing with you the results.  

Playing golf is associated with improved physical health and mental well-being in addition to positive changes in daily activities.  We anticipate full classes of Veterans, Beginners & Lapsed Golfers, and Underserved Youth through November.  Let me share a few statistics about our students:  
70% had never played golf prior to the Project Golf program

88% have continued to play golf after graduating

65% have since purchased golf equipment

25% have since taken additional lessons
Please follow us on our social media sites Facebook: Project Golf & PGA HOPE Myrtle Beach.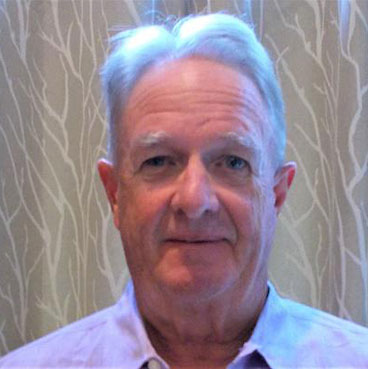 Paul Carlson, PGA Member
Paul has been an extraordinary asset to the team. Paul is Project Golf's Volunteer Coordinator and manages all volunteer activities and events. As PGA Member, he's a valuable asset to the team and we are encouraged by his enthusiasm, customer service skills, and love of the game.
Paul is originally from Connecticut, and moved to the Carolinas in 2000, after retiring from Bridgeport Connecticut Police Department after a 21-year career. Then began a new career in the golf industry shortly after the move and gravitated to golf instruction to help people enjoy the game of golf. Three years ago Paul was introduced to the PGA HOPE (Helping Our Patriots Everywhere) program and got adaptive golf certified through this program. It changed his perspective on how golf can change people's lives in a positive manner.
The best part of this program, for Paul, is getting the participants comfortable with the process and breaking down barriers. Seeing the progress and listening to the stories as the weeks go by affirms that this program is instrumental in enhancing people's lives by getting them out playing golf with old friends and making new ones.
Paul's passion is deeply seated in the PGA HOPE program. Paul's opening remarks to virtually every PGA HOPE class "I can't thank you all enough for the sacrifices that were made by you, for us. This is the best day of my week. I am looking forward to teaching you, learning from you, and about you at the same time. Let's have fun"
His goal is to get people to love golf as much as we do, which will relate to more social interaction, enjoying getting outside, and having fun. Seeing this result is very satisfying and shows him that his efforts are well worthwhile.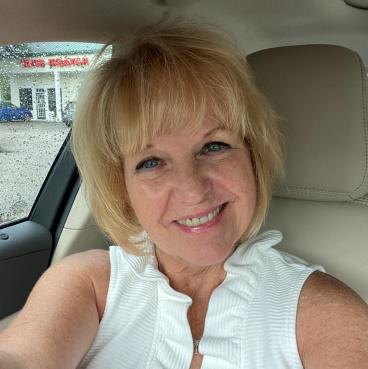 Karen Lombardi
As a Board Member, Karen brings a unique understanding of our mission and continues to be a staunch supporter. Karen has a strong passion for golf and purchased a home in Murrells Inlet in 2008 while visiting on a golf trip; she moved to the area full-time in 2015.
Karen enjoys staying active playing golf, pickleball, kayaking, and traveling whenever possible.  Karen has been employed for ten years by the Independent Energy HR Association (IEHRA) as the Executive Director and Event Planner. She is a member of Belin Methodist Church where she is involved with the Backpack Buddy program. Karen is also a volunteer for Neighbor to Neighbor an organization that provides rides to home-bound seniors in the Grand Strand.  When not working, golfing, or volunteering her time, you can find Karen cheering for her NE Patriots and Baltimore Ravens. In addition, her son Nick and his family recently relocated to the Mount Pleasant area which makes spoiling the grands extremely easy.
"Being involved with the Project Golf Board and members has increased my awareness of how this organization touches so many lives and how thankful the recipients are to the group".  It's a natural skill set for me to help Project Golf grow the outreach, assist with the golf tournament and other events, and of course raise awareness of our Mission wherever possible".
Upcoming Events for Summer Schedule
Aug/Sep 2023: World AM Tournament. Volunteers needed to sell raffle tickets at Registration
Fall 2023: Jamboree. Volunteers are needed for registration and activities
How you can help:
We are in search of well-used clubs that we can pass on to our Youth and Veteran golfers in need