For Gary Schaal, PGA HOPE Myrtle Beach is far more than a flagship program of Project Golf. It's been a powerful way for Project Golf's executive director to combine the most meaningful elements of his military service and his extensive, decorated experiences in golf to fulfill the mission represented by the HOPE acronym (Helping Our Patriots Everywhere).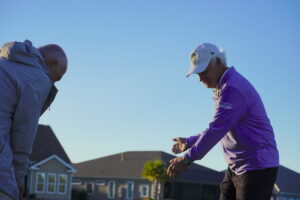 And when you hear Schaal describe what he's already seen and felt in the program's infancy stages in Myrtle Beach, PGA HOPE's impact on veterans in need in "The Golf Capital of the World" has already been profound.
Take Fred, one of many PGA HOPE participants living with post-traumatic stress disorder (PTSD), who asked Schaal recently if he wanted to hear about his PTSD. Schaal's affirmative response induced a simple summation of precisely how powerful the game of golf can be as a therapeutic element.
"It's gone," Fred explained. "I replaced it with golf."
The wartime nightmares were coming every night until PGA HOPE entered Fred's life. "I've substituted," he told Schaal. "Remember where you and I were playing two weeks ago, and I hit that seven iron over the pond? Where'd it go?"
"It was on the green," Schaal remembered.
The result was even better than giving Fred a chance at a low score on that hole. Remembering that shot, Fred concluded, "displaced my PTSD nightmares."
Or take David, one of Schaal's veteran participants in PGA HOPE Myrtle Beach's initial six-week offering earlier this fall. David couldn't make it to one of the sessions due to a doctor's appointment, explaining to Schaal that he was in the midst of weaning off some medicine. Schaal was a bit confused, so David offered further explanation.
"Well, I got this dopamine I'm taking, and the doctor's about to cut me off. You know why?"
"No idea," Schaal responded.
Turns out David's prescription had already been filled by a new medication.
"Golf is my dopamine now."
It's stories like this that make Schaal's chest swell with pride. "You feel really good (when you hear that)," he concludes. "You want to tear up and you say, 'David, that's really good news. I want you off the dopamine, and I want you on golf!'"
The work he's doing now with PGA HOPE is driven heavily by what Schaal was doing in his early days as a military veteran, following his Vietnam War service with the United States Air Force where he served as a captain. Many of Schaal's days living in Virginia were spent helping fellow veterans at Walter Reed Military Medical Center nearby in Bethesda, Maryland, particularly those physically and emotionally affected by the ravages of war. Much of that work was focused on curricula and lesson plans similar in nature to what Schaal's current PGA HOPE duties entail.
After one particular session Schaal was asked by Sheila, the wife of a Marine Corps gunnery sergeant among the veterans Schaal was trying to help, to accompany her to his car as she proceeded to ask him a very pointed question.
"Mr. Gary, do you know what you're doing?"
A bit stunned, Schaal's initial response was a plea for understanding.
"Sheila, we're really trying hard," Schaal said. "I think we know what we're supposed to do, and we're trying to get there …"
"You're not getting it," Sheila interrupted. "Do you know what you're doing?"
"Tell me what you mean," Schaal implored.
Sheila asked again, "Do you know the impact of what's going on? You know Mickey, my gunny husband? You do class on Tuesday and Friday?"
"Yes, Sheila …"
"Those are the two days he gets out of bed."
Schaal still feels the weight of Sheila's testimony to this day, and it's a big part of what drives his efforts today on behalf of PGA HOPE.
"It's trite, probably, to say 'Well, we're giving back,'" he says. "I don't know whether we all give back, but you make an attempt to make things better. That would be my slogan:
"Let's make it better."