From Angel Diaz, Director of Project Golf:
We would like to extend our sincere gratitude for making the effort to come to our fundraising event Project Golf Charity Golf Tournament at True Blue Golf Club yesterday.   Thank you True Blue and staff for hosting this special event.   We had an amazing turnout with over 127 in the field to share good weather, an awesome course, great food, and fellowship.   It was nice to see you all.   We managed to bring in another $20,000 more in donations!  Your attendance and support have played an important role in our event's success and we thank you!  With your contributions, we'll be able to provide professional golf instruction to our community emphasizing our efforts on disabled military veterans and underserved youth.  Your generosity and support are encouraging reminders that we are doing the right thing. 
Let me share some highlights of the Day:
Benton Montgomery and his team were able to pull off -18 for the day.  That's pretty impressive playing with no Mulligans.

We had three teams come in at -16 so we had to do a scorecard playoff for 2nd place with PG President, Dennis Nicholl's team taking 2nd Place.
Congratulations to Tom Kendrick for hitting a Hole in One on #3 from 116 yards.  Tom will receive One Year Supply of Golf Balls from Bridgestone Golf.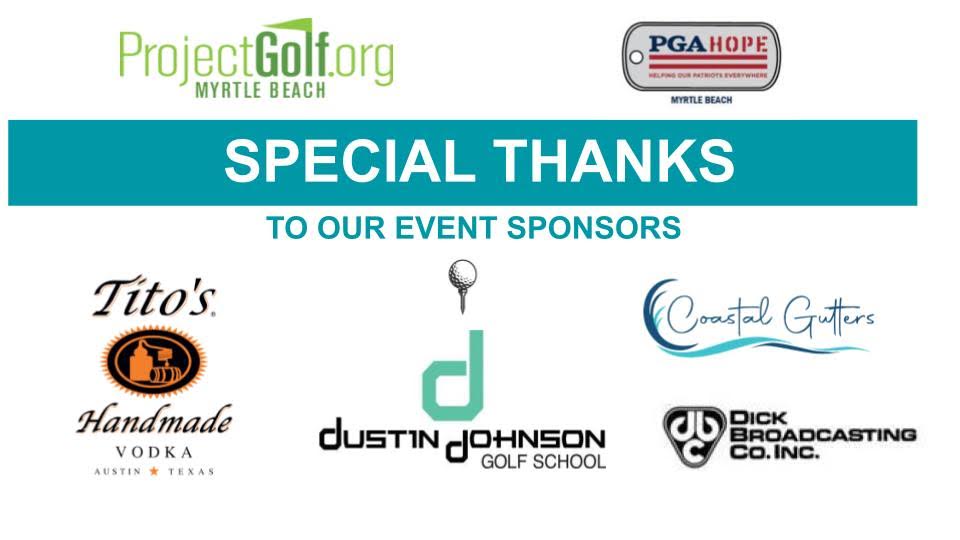 Finally, we'd like to thank our Sponsors: Dustin Johnson Golf School, Tito's Handmade Vodka, Coastal Gutters, and Dick Broadcasting Co. Inc. for their support.

We look forward to seeing you next year, at about the same time, for our next charity golf tournament. If you would like to help Project Golf, we are always looking for new or used clubs to provide our underserved Youth and PGA HOPE students with golf clubs upon completion of their 6-week course. Please contact me for more information.
Follow us on social media, Facebook @ProjectGolf and @PGAHOPEMyrtleBeach.